1 lb. beef flank steak, visible fat removed
3 T. soy sauce
2 T. canola oil
2 T. honey
2 T. garlic, finely chopped
1 tsp. ground ginger
2 T. green onions, chopped


10 c. romaine lettuce greens, washed and torn
1 c. cherry tomatoes, halved
1 cucumber, peeled and thinly sliced
2 ribs celery, washed and diced
1/4 tsp. freshly ground black pepper
Place the steak in a glass dish.
In a small bowl, combine the soy sauce, oil, honey, garlic, ground ginger and green onions. Pour over steak. Cover tightly and refrigerate overnight to marinate.
Next day: Place marinated steak and sauce in the slow cooker.
Cover. Cook on Low for 8 hours.
Transfer the steak to a carving platter and slice the steak thinly across the grain on the meat.
Reserve the marinade.
Salad:
To assemble the salad, toss the lettuce, tomatoes, cucumber and celery in a large serving bowl. Place the beef slices on top of the salad, drizzle with the warm marinade and toss again. Divide the salad onto individual plates, dust each salad with black pepper and serve immediately.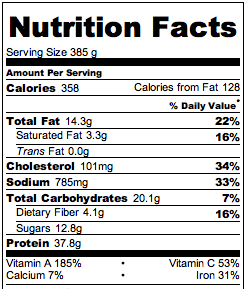 Happy Crocking!
For over 450 more Slow Cooker recipes, click here to get my eBook!
XOXO,
Jenn