1 lemon
1/2 c. prepared pesto sauce
1/2 sp. salt
1/2 tsp. freshly ground black pepper
4 - 6 oz. salmon fillets
cooking spray
Pin It

This is a perfect blend for salmon, pesto sauce and lemon. Serve with wild rice to complement the salmon.
1. Lightly coat the crock pot with cooking spray.
2. Cut the lemon in half. Slice one half of the lemon into thin slices and reserve.
3. Squeeze the juice of the other lemon half into a small bowl and blend with the pesto, salt and pepper.
4. Whisk to combine.
5. Place the salmon in the stoneware of the crock pot and cover the fillets with the pesto mixture.
6. Top each fillet with the lemon slices.
7. Cover. Cook on Low 2-3 hours.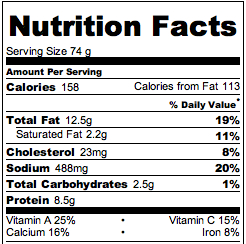 Happy Crocking!
For more recipes, get our eBook "Get Crocked: The Definitive Guide to Crock Pot Cooking + Recipes from the Crock Pot Girl."
Love,
Crock Pot Girl