mains
Mix together the ground beef, onion soup mix, bread crumbs, and milk using your hands. Shape into 8 patties. Heat the oil in ...

Slow Cooker Venison is very good, but you must not skip the overnight marinade step! Enjoy! Put the roast in a deep bowl ...

Did you know that August 3, 2012 is National Watermelon Day in the US?  Well, you do now!  Watermelon is a refreshing treat ...

Polenta is one of my favorites, and it is used lasagna-style in this beautiful and filling Slow Cooker Vegetable-Polenta Casserole! Drain and rinse ...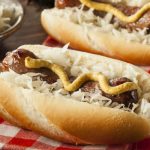 Slow Cooker Beer Brats are so easy and perfect for a large group or on a day you need some easy crocking (like ...

I love making pork in the slow cooker because it gets fall-off-the-bone tender.  This recipe for Slow Cooker BBQ Pork Chops is no exception! ...

Meet Jenn Bare
Jenn is the founder of GetCrocked, the #1 resource for slow cooking with over 1.5 million online followers. She innovates recipes daily with her favorite tool in the kitchen, the Crock-Pot® slow cooker.
She innovates recipes daily...
Jenn Bare is a Mom, Chef & the Crock-Pot® Girl. She hosts a weekly "Mom Monday" segment on ABC-15 in Phoenix.
Crockpot Books
Get Crocked: Fast & Easy Slow Cooker Recipes