mains
Famous for their Chili, you will be a hit when you serve Slow Cooker Cincinnati Chili to your guests or your family, many ...
Get Recipe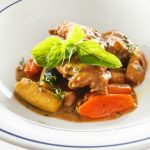 I'm not a big rabbit fan, but growing up my family liked rabbit, so occasionally they would make a Slow Cooker Rabbit recipe ...
Get Recipe
Place London Broil in slow cooker. Slice onions and peppers into rings and place on top of London Broil. Top all with stewed ...
Get Recipe
You can serve Slow Cooker Spanish Meatballs as an appetizer or as a meal! Great to make and freeze to keep on hand! ...
Get Recipe
Love this soup! Slow Cooker Mexican Chicken and Black Bean Soup is perfect for those that love some heat in their soup. TASTY! ...
Get Recipe
Place beef roast in a 6-Quart slow cooker and pour the entire jar of pepperoncinis, including the juice over top. Sprinkle with garlic ...
Get Recipe
Meet Jenn Bare
Jenn is the founder of GetCrocked, the #1 resource for slow cooking with over 1.5 million online followers. She innovates recipes daily with her favorite tool in the kitchen, the Crock-Pot® slow cooker.
She innovates recipes daily...
Jenn Bare is a Mom, Chef & the Crock-Pot® Girl. She hosts a weekly "Mom Monday" segment on ABC-15 in Phoenix.
Crockpot Books
Get Crocked: Fast & Easy Slow Cooker Recipes