Paleo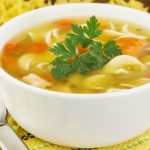 Try this soup on a cool, breezy fall or winter day.  This homemade classic is sure to warm your bones! Place all ingredients ...
Get Recipe
Ahh, the flavors of the Caribbean.  If you have ever had the pleasure to travel to this area, you crave the spicy, sweet ...
Get Recipe
Everyone is German in October, right?! Impress your family with this simple one pot meal! Pour the sauerkraut into crock, including the juices ...
Get Recipe
This one falls under the Dessert, Breakfast, or Power snack categories! Serve with coconut milk ice cream for a decadent dessert that you ...
Get Recipe
Getting tired of making the same chicken recipes over and over?  Well try this recipe for Slow Cooker Paleo Honey Apple Chicken at ...
Get Recipe
A weeknight meal you can easily prep in the morning, with minimal effort and ingredients. Come home to a tasty Asain dinner! Oil ...
Get Recipe
Meet Jenn Bare
Jenn is the founder of GetCrocked, the #1 resource for slow cooking with over 1.5 million online followers. She innovates recipes daily with her favorite tool in the kitchen, the Crock-Pot® slow cooker.
She innovates recipes daily...
Jenn Bare is a Mom, Chef & the Crock-Pot® Girl. She hosts a weekly "Mom Monday" segment on ABC-15 in Phoenix.
Crockpot Books
Get Crocked: Fast & Easy Slow Cooker Recipes