sides
Quinoa has slowly become a staple in my home!  I love cooking with it because it packs so much protein and keeps you ...
Get Recipe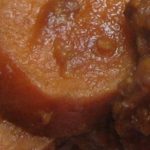 Cut sweet potatoes into one inch chunks and place in slow cooker. Combine brown sugar, first measure of butter, cinnamon, and apple sauce ...
Get Recipe
Slow Cooker Cheesy Cauliflower is delicious. It also makes a large amount and is great for potlucks or family gatherings! YUMMY! Add cauliflower, ...
Get Recipe
You will love this recipe as you don't have to watch it closely as long as you generously spray the crock with the ...
Get Recipe
Here is another festive side dish for the holidays and one that the kiddos along with the adults love; Slow Cooker Cranberry Sweet ...
Get Recipe
Lightly butter a 3 1/2 or 4-quart slow cooker. Sprinkle about 1/4 of the potatoes in the slow cooker, followed by 1/3 of ...
Get Recipe
Meet Jenn Bare
Jenn is the founder of GetCrocked, the #1 resource for slow cooking with over 1.5 million online followers. She innovates recipes daily with her favorite tool in the kitchen, the Crock-Pot® slow cooker.
She innovates recipes daily...
Jenn Bare is a Mom, Chef & the Crock-Pot® Girl. She hosts a weekly "Mom Monday" segment on ABC-15 in Phoenix.
Crockpot Books
Get Crocked: Fast & Easy Slow Cooker Recipes