Healthy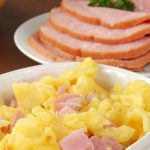 Slow Cooker Ham and Potatoes au'Gratin will be a great comfort food meal for the family! Spray slow cooker with butter flavored cooking ...
Get Recipe
Elvis would be crooning if he woke up to this hearty and delicious Slow Cooker Gluten-Free Peanut Butter Banana Oatmeal!  (You can decide ...
Get Recipe
Quinoa has slowly become a staple in my home!  I love cooking with it because it packs so much protein and keeps you ...
Get Recipe
Place chicken in a pot with water to cover, and bring to a boil over medium heat. Boil 20 minutes, or until cooked ...
Get Recipe
Rinse your pinto beans, removing any sand or rocks that can be found in beans. Add the beans, onions, garlic, poblano, cumin, salt, ...
Get Recipe
Using ground turkey instead of ground beef reduces the fat in this recipe for Slow Cooker Turkey Sloppy Joes.  You can sub beef ...
Get Recipe
Meet Jenn Bare
Jenn is the founder of GetCrocked, the #1 resource for slow cooking with over 1.5 million online followers. She innovates recipes daily with her favorite tool in the kitchen, the Crock-Pot® slow cooker.
She innovates recipes daily...
Jenn Bare is a Mom, Chef & the Crock-Pot® Girl. She hosts a weekly "Mom Monday" segment on ABC-15 in Phoenix.
Crockpot Books
Get Crocked: Fast & Easy Slow Cooker Recipes