Tag:
beans
Slow Cooker Smoked Sausage, Green Beans and Potatoes is one of the most popular recipes on this website!  This recipe is super easy ...
Get Recipe
Sort beans and soak in enough water to cover overnight. Rinse the beans the following morning several times to make sure they are ...
Get Recipe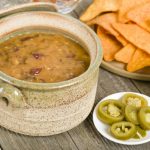 Combine all ingredients in a 1 quart slow cooker. Cover. Cook on Low for 1 1/2 to 2 hours or until all is ...
Get Recipe
When I make Slow Cooker Homemade Baked Beans, they bring back some childhood memories of when my parents had their famous BBQ's! Great ...
Get Recipe
Crumble raw ground beef in bottom of slow cooker. Sprinkle with salt and pepper. Layer remaining ingredients on beef in order listed. Cover ...
Get Recipe
This recipe for Slow Cooker Vegetarian Tacos is a great dish to serve when you have vegetarian friends and also friends that are ...
Get Recipe
Meet Jenn Bare
Jenn is the founder of GetCrocked, the #1 resource for slow cooking with over 1.5 million online followers. She innovates recipes daily with her favorite tool in the kitchen, the Crock-Pot® slow cooker.
She innovates recipes daily...
Jenn Bare is a Mom, Chef & the Crock-Pot® Girl. She hosts a weekly "Mom Monday" segment on ABC-15 in Phoenix.
Crockpot Books
Get Crocked: Fast & Easy Slow Cooker Recipes