Tag:
cabbage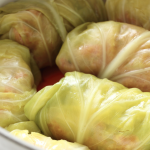 1. Cut cabbage in half and cut out core. Boil cabbage for 3-4 minutes. Peel off 12 large leaves and set aside. 2 ...
Get Recipe
Place the carrots, potatoes, and onion into the bottom of the crock pot, pour in the water, and place the brisket on top ...
Get Recipe
Place vegetables and bay leaves in bottom of slow cooker. (Note: Soften the potatoes and carrots in the microwave for 5 minutes before ...
Get Recipe
Arrange sliced potatoes in the bottom of a 4-to 7-quart slow cooker. Drizzle with the butter and sprinkle with about half of the ...
Get Recipe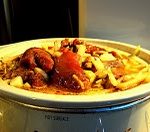 In a slow cooker, place the squirrel meat, potatoes, carrots, green bell pepper, onions, water, cabbage, salt and ground black pepper. Cover. Cook ...
Get Recipe
Mix everything together putting cabbage on top. Cook on Low 10 to 12 hours or High 6 to 8 hours. Variation: Can add ...
Get Recipe
Meet Jenn Bare
Jenn is the founder of GetCrocked, the #1 resource for slow cooking with over 1.5 million online followers. She innovates recipes daily with her favorite tool in the kitchen, the Crock-Pot® slow cooker.
She innovates recipes daily...
Jenn Bare is a Mom, Chef & the Crock-Pot® Girl. She hosts a weekly "Mom Monday" segment on ABC-15 in Phoenix.
Crockpot Books
Get Crocked: Fast & Easy Slow Cooker Recipes