Tag:
casserole
You may have made breakfast casserole in a slow cooker before but I love this recipe more than most because I've incorporated fresh ...
Get Recipe
This Slow Cooker Cheesy Rice and Broccoli is a favorite come Holiday time. Sometimes, we like to add sliced mushrooms as well. Hope ...
Get Recipe
Happy Holidays! Yes, it's that time of year when we tend to over-indulge. If you are like my family, we always make way ...
Get Recipe
Looking for a fun meal that the kids will even like to help make?  Slow Cooker Tater Tot Casserole is it! Whenever I ...
Get Recipe
Slow Cooker Spaghetti Pie is delicious and will have your kids running to the dinner table!  It's fun and easy! Boil spaghetti until ...
Get Recipe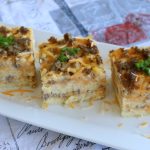 This is the easiest breakfast casserole recipe for the slow cooker and it is SO tasty! Slow Cooker EASY Breakfast Casserole has only ...
Get Recipe
Meet Jenn Bare
Jenn is the founder of GetCrocked, the #1 resource for slow cooking with over 1.5 million online followers. She innovates recipes daily with her favorite tool in the kitchen, the Crock-Pot® slow cooker.
She innovates recipes daily...
Jenn Bare is a Mom, Chef & the Crock-Pot® Girl. She hosts a weekly "Mom Monday" segment on ABC-15 in Phoenix.
Crockpot Books
Get Crocked: Fast & Easy Slow Cooker Recipes