Tag:
crock pot
Shrimp is one of my favorite foods and there are so many ways to prepare it. One of the ways I enjoy shrimp ...

Slow Cooker Veal Paprikash is a Hungarian dish that is delightful and very Tasty! In a 3 1/2 - 4 quart slow cooker, ...

I can make a meal on Slow Cooker Twice Baked Potatoes - Loaded, that is why I love them in the slow cooker, ...

If you love everything Pumpkin, you will love Slow Cooker Pumpkin Bisque. Delicious and great to serve as a starter for the Holidays, ...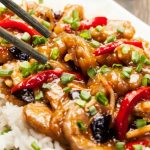 When you are looking for a Delicious recipe, you must make Slow Cooker Delicious Sweet and Sour Pork. The pineapple mixed wth all ...

You know that I LOVE Pumpkin! This recipe for Slow Cooker Pumpkin Chai Tea is delicious and wonderful during the cooler weather! Pour ...

Meet Jenn Bare
Jenn is the founder of GetCrocked, the #1 resource for slow cooking with over 1.5 million online followers. She innovates recipes daily with her favorite tool in the kitchen, the Crock-Pot® slow cooker.
She innovates recipes daily...
Jenn Bare is a Mom, Chef & the Crock-Pot® Girl. She hosts a weekly "Mom Monday" segment on ABC-15 in Phoenix.
Crockpot Books
Get Crocked: Fast & Easy Slow Cooker Recipes