Tag:
game day
To prepare: Set slow cooker to "Low" setting. Cut Velveeta cheeses into 1-inch cubes, add to slow cooker (If need to make dip ...
Get Recipe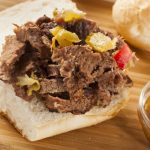 Place roast in slow cooker.  Cut 4 slits in top of roast.  Fill each slit with 1/2 tsp. salt, 1 garlic clove, and ...
Get Recipe
Full of Flavor! Slow Cooker Green Chili Stew is YUMMY! Brown onions, garlic, sirloin, and pork in oil in skillet. Cook until meat ...
Get Recipe
I like my pulled pork with some zip. This recipe for Slow Cooker Pulled Pork has all the flavor I enjoy! If roast ...
Get Recipe
When you are getting ready for the next big fun gathering, your guests will enjoy Slow Cooker Chili Con Queso Cheese Dip. Brown ...
Get Recipe
Slow Cooker Asian Chicken Wings are delicious and is full of all the flavor and taste that everyone will enjoy! Rinse chicken and ...
Get Recipe
Meet Jenn Bare
Jenn is the founder of GetCrocked, the #1 resource for slow cooking with over 1.5 million online followers. She innovates recipes daily with her favorite tool in the kitchen, the Crock-Pot® slow cooker.
She innovates recipes daily...
Jenn Bare is a Mom, Chef & the Crock-Pot® Girl. She hosts a weekly "Mom Monday" segment on ABC-15 in Phoenix.
Crockpot Books
Get Crocked: Fast & Easy Slow Cooker Recipes