Tag:
honey
Slow Cooker EASY Honey Garlic Chicken Thighs are not just easy they are also very delicious and moist. Enjoy! In a 4 quart ...
Get Recipe
Getting tired of making the same chicken recipes over and over?  Well try this recipe for Slow Cooker Paleo Honey Apple Chicken at ...
Get Recipe
Our family really loves a nice ham dinner come Holiday time.  The best part?  It's easy, and everyone enjoys this flavorful, moist, and ...
Get Recipe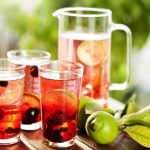 On a warm summer day, Slow Cooker Berry-Lemonade Tea is not only tasty, but when served over ice is also very refreshing! Place ...
Get Recipe
Slow Cooker Granola Breakfast Casserole is one of the recipes from my eBook, but I wanted to share with all of you to ...
Get Recipe
Making your own Pizza Sauce will not only have the kiddos raving, but the adults too. And when you make Slow Cooker Homemade ...
Get Recipe
Meet Jenn Bare
Jenn is the founder of GetCrocked, the #1 resource for slow cooking with over 1.5 million online followers. She innovates recipes daily with her favorite tool in the kitchen, the Crock-Pot® slow cooker.
She innovates recipes daily...
Jenn Bare is a Mom, Chef & the Crock-Pot® Girl. She hosts a weekly "Mom Monday" segment on ABC-15 in Phoenix.
Crockpot Books
Get Crocked: Fast & Easy Slow Cooker Recipes