Tag:
peppers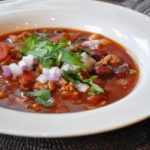 Stephanie says this recipe is super easy and not expensive! Stephanie didn't give exact measurements, so hopefully you can make this according to ...
Get Recipe
Remove tops and seeds. Wash peppers and drain. Combine all remaining ingredients EXCEPT ketchup in mixing bowl. Stir well. Stuff peppers 2/3 full ...
Get Recipe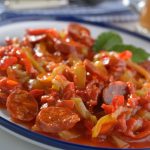 Put onions and peppers in the bottom of the slow cooker. Arrange sausage on top of vegetables in slow cooker. Pour the stewed ...
Get Recipe
In a large mixing bowl, combine all the ingredients EXCEPT the bell peppers and tomato soup. Stuff each bell pepper with the mixture ...
Get Recipe
Place a slow cooker liner in a 6-Quart Crock-Pot® Slow Cooker. Place a skillet over medium heat. Add oil and sauté onions & ...
Get Recipe
This recipe for Slow Cooker Breakfast Casserole is one of my favorites! The fresh veggies along with hash browns, eggs, cheese and your ...
Get Recipe
Meet Jenn Bare
Jenn is the founder of GetCrocked, the #1 resource for slow cooking with over 1.5 million online followers. She innovates recipes daily with her favorite tool in the kitchen, the Crock-Pot® slow cooker.
She innovates recipes daily...
Jenn Bare is a Mom, Chef & the Crock-Pot® Girl. She hosts a weekly "Mom Monday" segment on ABC-15 in Phoenix.
Crockpot Books
Get Crocked: Fast & Easy Slow Cooker Recipes