Tag:
sandwich
This recipe is a keeper, as you can use your leftover turkey to make this delicious Slow Cooker Turkey Barbecue! YUM! Place Onions ...
Get Recipe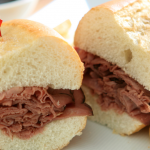 A reader recently asked for advice on what to make with a large rump roast that she had on hand and didn't know ...
Get Recipe
In skillet over medium heat, cook sausage until brown. Transfer to slow cooker. Add peppers and onion. Top with pasta sauce. Cover. Cook ...
Get Recipe
Note: To be sure venison cooks tender, marinate overnight in 1 c. vinegar and 2 T. dried rosemary. In the morning, discard marinade, ...
Get Recipe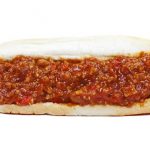 Place the ground beef and onion in a large skillet over medium-high heat. Cook, stirring to crumble, until beef is browned. Drain. Transfer ...
Get Recipe
Slow Cooker Sloppy Joes are so easy and great to serve to both family and friends. Saute the celery, onion and green pepper ...
Get Recipe
Meet Jenn Bare
Jenn is the founder of GetCrocked, the #1 resource for slow cooking with over 1.5 million online followers. She innovates recipes daily with her favorite tool in the kitchen, the Crock-Pot® slow cooker.
She innovates recipes daily...
Jenn Bare is a Mom, Chef & the Crock-Pot® Girl. She hosts a weekly "Mom Monday" segment on ABC-15 in Phoenix.
Crockpot Books
Get Crocked: Fast & Easy Slow Cooker Recipes