Cooking Time:

6–7 hours

Servings:

10–12
Ingredients
30 oz. bag frozen hash brown pota­toes
1 lb. of bacon diced, cooked and drained or 1 lb. cooked ham, cubed
1 medi­um onion, diced
1 green bell pep­per diced
1 1/2 c. shred­ded ched­dar or Mon­terey Jack cheese
1 dozen eggs
1 c. milk
Salt
&
Pep­per, to taste
Place a lay­er of frozen pota­toes on the bot­tom of the slow cok­er.
Next add a lay­er of bacon then onions, green pep­per and cheese.
Repeat the lay­er­ing process two or three more times, end­ing with a lay­er of cheese.
Beat the eggs, milk and salt and pep­per togeth­er.
Pour over the slow cook­er mix­ture.
Cov­er. Cook on Low for 6–7 hours.
Note: Recipe updat­ed on 10/29 to reflect new cook­ing time. I orig­i­nal­ly post­ed 10–12 hours, but my slow cook­er seems to get done around 6–7 hours. 🙂
Hap­py Crock­ing!
For over 450 more Slow Cook­er recipes, click here to get my eBook!
XOXO

,
Jenn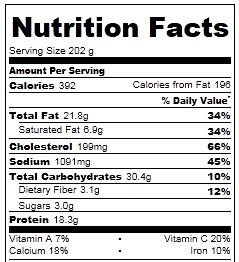 Nutri­tion with Bacon