Home
>
Articles by: Jenn Bare
I created this recipe for Slow Cooker Maple Citrus Sweet Potatoes after being invited to try out Walmart's Online Grocery.  (I ordered online ...

If you're like me, the mornings can be a little chaotic around the house! One way that we stay a little bit more ...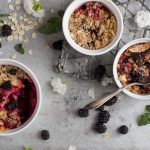 I love this recipe - it's a great way to enjoy all the berries of summer without heating up the oven (or the ...

I recently had the most delicious dessert at a Thai restaurant and like most dishes, I declared "I can make that in a ...

My sister recently visited and shared her recipe for Slow Cooker Spicy Steak Fajitas. They have the perfect level of spice. We all ...

Meet Jenn Bare
Jenn is the founder of GetCrocked, the #1 resource for slow cooking with over 1.5 million online followers. She innovates recipes daily with her favorite tool in the kitchen, the Crock-Pot® slow cooker.
She innovates recipes daily...
Jenn Bare is a Mom, Chef & the Crock-Pot® Girl. She hosts a weekly "Mom Monday" segment on ABC-15 in Phoenix.
Crockpot Books
Get Crocked: Fast & Easy Slow Cooker Recipes