Paleo
Ahh, the flavors of the Caribbean.  If you have ever had the pleasure to travel to this area, you crave the spicy, sweet ...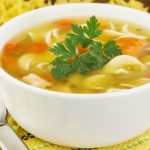 Try this soup on a cool, breezy fall or winter day.  This homemade classic is sure to warm your bones! Place all ingredients ...

An Asian classic that packs a punch of flavor!  Slow Cooker Paleo Asian Chicken Lettuce Wraps make a great light lunch or dinner ...

This time of the year we think of warm tasty soups, and with Slow Cooker Paleo Apple and Parsnip Soup you will definitely ...

Taco Night is sure to become a tradition in your home after indulging in these light and flavorful island-inspired pork tacos. In a ...

Meet Jenn Bare
Jenn is the founder of GetCrocked, the #1 resource for slow cooking with over 1.5 million online followers. She innovates recipes daily with her favorite tool in the kitchen, the Crock-Pot® slow cooker.
She innovates recipes daily...
Jenn Bare is a Mom, Chef & the Crock-Pot® Girl. She hosts a weekly "Mom Monday" segment on ABC-15 in Phoenix.
Crockpot Books
Get Crocked: Fast & Easy Slow Cooker Recipes