mains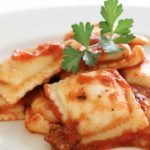 I love pasta - especially easy recipes! This is one of those easy recipes and you can adjust seasonings to your preference to ...

In the slow cooker, combine chicken, broth, vegetables, rice, and seasonings. Cover. Cook on Low for 6 to 8 hours, or cook on ...

Crumble raw ground beef in bottom of slow cooker. Sprinkle with salt and pepper. Layer remaining ingredients on beef in order listed. Cover ...

Beef Brisket is a holiday tradition around our home yet it's something we enjoy all year around.  We enjoy the flavors that are ...

Add butter, onion, carrots, broccoli, chicken broth, garlic and seasonings into a slow cooker. Cover & cook on low for 6 hours. Remove ...

Meet Jenn Bare
Jenn is the founder of GetCrocked, the #1 resource for slow cooking with over 1.5 million online followers. She innovates recipes daily with her favorite tool in the kitchen, the Crock-Pot® slow cooker.
She innovates recipes daily...
Jenn Bare is a Mom, Chef & the Crock-Pot® Girl. She hosts a weekly "Mom Monday" segment on ABC-15 in Phoenix.
Crockpot Books
Get Crocked: Fast & Easy Slow Cooker Recipes