mains
Place ingredients, EXCEPT green onions and cashews, in the slow cooker. Cover. Cook on Low for 7 to 8 hours, or on High ...
Get Recipe
If you want an EASY recipe, Slow Cooker Bloody Mary Chicken would be what you would want to make! Good TOO! Place the ...
Get Recipe
Remember when I was a child and my Mom making the family Slow Cooker Chicken Ala King, a real comfort meal! Spray the ...
Get Recipe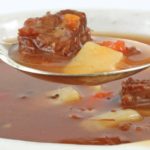 Pot Roast Slow Cooker Soup is just another way for a great Pot Roast, and one your family or friends will enjoy! Cut ...
Get Recipe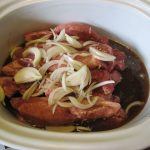 Brynne K. M. shared a family favorite recipe with all of us! Brynne says you can use this recipe with ribs, roast or ...
Get Recipe
This recipe for Slow Cooker Breakfast Burritos is not only delicious, it's also perfect for serving at brunch! Place the ingredients in a ...
Get Recipe
Meet Jenn Bare
Jenn is the founder of GetCrocked, the #1 resource for slow cooking with over 1.5 million online followers. She innovates recipes daily with her favorite tool in the kitchen, the Crock-Pot® slow cooker.
She innovates recipes daily...
Jenn Bare is a Mom, Chef & the Crock-Pot® Girl. She hosts a weekly "Mom Monday" segment on ABC-15 in Phoenix.
Crockpot Books
Get Crocked: Fast & Easy Slow Cooker Recipes