mains
If you love black beans and the deliciousness of pumpkin in the fall, you will love this Slow Cooker Pumpkin Black Bean Chili! ...
Get Recipe
Place round steak and onion in slow cooker. Combine ingredients, EXCEPT water and cornstarch, and pour over steak and onion. Cover. Cook on ...
Get Recipe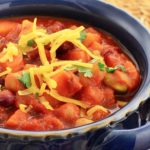 I am not even vegetarian, but I absolutely love this recipe for Slow Cooker Vegetarian Chili, and this recipe is also a great ...
Get Recipe
This fun and flavorful marinade lends itself to make the most moist and delicious chicken. Change it up by using limeade or orange ...
Get Recipe
This recipe for Slow Cooker Breakfast Casserole is one of my favorites! The fresh veggies along with hash browns, eggs, cheese and your ...
Get Recipe
Trim all excess fat from steak and cut meat into 3 inch strips about 1/2 inch wide. Conbine 1/2 cup flour, the salt, ...
Get Recipe
Meet Jenn Bare
Jenn is the founder of GetCrocked, the #1 resource for slow cooking with over 1.5 million online followers. She innovates recipes daily with her favorite tool in the kitchen, the Crock-Pot® slow cooker.
She innovates recipes daily...
Jenn Bare is a Mom, Chef & the Crock-Pot® Girl. She hosts a weekly "Mom Monday" segment on ABC-15 in Phoenix.
Crockpot Books
Get Crocked: Fast & Easy Slow Cooker Recipes