mains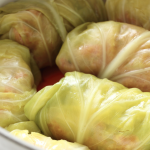 1. Cut cabbage in half and cut out core. Boil cabbage for 3-4 minutes. Peel off 12 large leaves and set aside. 2 ...
Get Recipe
Tasty teriyaki flavor is wonderful with this Slow Cooker Teriyaki Pork Roast. Combine apple juice, sugar, soy sauce, vinegar, ginger, garlic powder, and ...
Get Recipe
Looking for an easy and simple dinner. Here you go... Slow Cooker Chicken & Peppers! Place sliced onions on bottom of crock pot ...
Get Recipe
Love Slow Cooker Carrots and Potatoes with Chicken as it takes only 20 minutes to prep and ready in a short period of ...
Get Recipe
Ahh! The scents of Autumn are abundant in this healthy Pork Tenderloin. Soon to become a Fall favorite in any home! Mix together ...
Get Recipe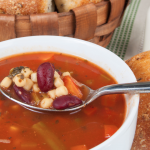 Slow Cooker Vegetarian Minestrone doesn't mean you need to be a vegetarian to enjoy this wonderful minestrone! It's just plain delicious and so ...
Get Recipe
Meet Jenn Bare
Jenn is the founder of GetCrocked, the #1 resource for slow cooking with over 1.5 million online followers. She innovates recipes daily with her favorite tool in the kitchen, the Crock-Pot® slow cooker.
She innovates recipes daily...
Jenn Bare is a Mom, Chef & the Crock-Pot® Girl. She hosts a weekly "Mom Monday" segment on ABC-15 in Phoenix.
Crockpot Books
Get Crocked: Fast & Easy Slow Cooker Recipes