Healthy
Slow Cooker Chili Mac and Cheese is also a kiddo favorite! I enjoy the cheesy noodles, and the blend of the delicious spices ...
Get Recipe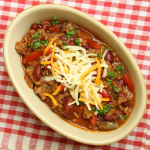 The is nothing better than a pot of chili after a long day away for home. You will make Slow Cooker Favorite Chili ...
Get Recipe
Sometimes you just want a COMFORT Soup that is full of flavor and that everyone in the family will like. Slow Cooker Beef ...
Get Recipe
There are a few variations for left over turkey soup, but I like Slow Cooker EASY Leftover Turkey Noodle Soup because it is ...
Get Recipe
I love the blend of flavors in this delicious Slow Cooker Egg Drop Soup. YUMMY! Place chicken, broth, onion, ginger and seasonings in ...
Get Recipe
Meet Jenn Bare
Jenn is the founder of GetCrocked, the #1 resource for slow cooking with over 1.5 million online followers. She innovates recipes daily with her favorite tool in the kitchen, the Crock-Pot® slow cooker.
She innovates recipes daily...
Jenn Bare is a Mom, Chef & the Crock-Pot® Girl. She hosts a weekly "Mom Monday" segment on ABC-15 in Phoenix.
Crockpot Books
Get Crocked: Fast & Easy Slow Cooker Recipes