Healthy
I love anything with Teriyaki and these Slow Cooker Teriyaki Ginger Pork Chops are no exception.  Not only are these chops flavorful and tender, ...
Get Recipe
This is Kim M's Slow Cooker Grandma Clo's Cheesy Grits… Kim said when she recently made it for an office party, the recipe ...
Get Recipe
Facebook friend Nicky shared Slow Cooker Roast recipe and said it is so good! Mix A-1 Sauce, Water and soup mix. Set this ...
Get Recipe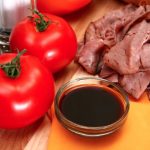 For those of you looking for a recipe that is Very Low in saturated fat, No cholesterol, Low in sodium and no sugar ...
Get Recipe
On a recent ski trip I had the pleasure of warming up with some delicious soup. I loved the blend of vegetables and ...
Get Recipe
There's nothing quite like a really amazing soup on a cold winter day.  Try this Slow Cooker 16 Bean and Sausage Soup, and ...
Get Recipe
Meet Jenn Bare
Jenn is the founder of GetCrocked, the #1 resource for slow cooking with over 1.5 million online followers. She innovates recipes daily with her favorite tool in the kitchen, the Crock-Pot® slow cooker.
She innovates recipes daily...
Jenn Bare is a Mom, Chef & the Crock-Pot® Girl. She hosts a weekly "Mom Monday" segment on ABC-15 in Phoenix.
Crockpot Books
Get Crocked: Fast & Easy Slow Cooker Recipes