Healthy
Slow Cooker Minestrone is a delicious soup, and tastes even better the next day! This recipe was a favorite of my mother-in-law's when ...
Get Recipe
This is the perfect recipe to fix for a cool day! Slow Cooker Cajun Seasoned Vegetarian Gumbo is full of flavor.  Feel free ...
Get Recipe
Trim fat from meat. Cut meat into 1-inch pieces. Sprinkle meat with salt and pepper. If desired, in a large skillet cook meat, ...
Get Recipe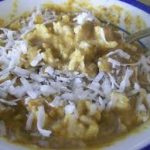 This is an old recipe that has been in the family for a very long time! MeeMaw's Slow Cooker Curry! Wipe beef well ...
Get Recipe
I love Asian food! I actually love Asian food at home and that's because I know I can make a healthier version of ...
Get Recipe
I LOVE Shrimp Scampi! Adding the Johnny's Garlic Spread to this classic recipe gives it an extra boost of flavor that everyone loves ...
Get Recipe
Meet Jenn Bare
Jenn is the founder of GetCrocked, the #1 resource for slow cooking with over 1.5 million online followers. She innovates recipes daily with her favorite tool in the kitchen, the Crock-Pot® slow cooker.
She innovates recipes daily...
Jenn Bare is a Mom, Chef & the Crock-Pot® Girl. She hosts a weekly "Mom Monday" segment on ABC-15 in Phoenix.
Crockpot Books
Get Crocked: Fast & Easy Slow Cooker Recipes