Healthy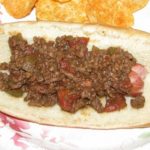 This Slow Cooker Grandma Lucy's Kentucky Spaghetti Sauce recipe is one that my husband's Grandmother use to make, I just converted it for ...
Get Recipe
Always looking for ways to use up the leftover turkey. I like to make Slow Cooker Leftover Turkey Chili! Mix great northern beans, ...
Get Recipe
I have traveled all over the world and one of my absolute favorite places is the Philippines.  Not only are the people kind ...
Get Recipe
My friends at Hurst Beans sent me this recipe for Pumpkin Pinto Chili and it sounds delicious!  This Halloween, I'm in a new neighborhood ...
Get Recipe
I love Slow Cooker Salsa Chicken for so many reasons.  It's super easy to make and it's really versatile. I've used the shredded ...
Get Recipe
This Slow Cooker Chicken Cacciatore is so easy to make, and always taste so good with all the flavor you would expect! Put ...
Get Recipe
Meet Jenn Bare
Jenn is the founder of GetCrocked, the #1 resource for slow cooking with over 1.5 million online followers. She innovates recipes daily with her favorite tool in the kitchen, the Crock-Pot® slow cooker.
She innovates recipes daily...
Jenn Bare is a Mom, Chef & the Crock-Pot® Girl. She hosts a weekly "Mom Monday" segment on ABC-15 in Phoenix.
Crockpot Books
Get Crocked: Fast & Easy Slow Cooker Recipes