Holiday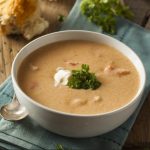 I love making Slow Cooker Lobster Bisque when I'm entertaining or having a special dinner at home.  Sometimes my honey and I "divide ...
Get Recipe
This time of the year, I make anything I can with PUMPKIN! This Slow Cooker Pumpkin Dump Cake is often requested AND it's ...
Get Recipe
Need a new recipe to use up some of that leftover turkey. You will love Slow Cooker Barbecued Pulled Turkey Tostada. Great thing ...
Get Recipe
You know that I LOVE Pumpkin! This recipe for Slow Cooker Pumpkin Chai Tea is delicious and wonderful during the cooler weather! Pour ...
Get Recipe
It's a new year and what better time to make a delicious pot of soup to simmer all day and enjoy with family ...
Get Recipe
Meet Jenn Bare
Jenn is the founder of GetCrocked, the #1 resource for slow cooking with over 1.5 million online followers. She innovates recipes daily with her favorite tool in the kitchen, the Crock-Pot® slow cooker.
She innovates recipes daily...
Jenn Bare is a Mom, Chef & the Crock-Pot® Girl. She hosts a weekly "Mom Monday" segment on ABC-15 in Phoenix.
Crockpot Books
Get Crocked: Fast & Easy Slow Cooker Recipes