Holiday
So Good!  Love the blend of flavors in the Slow Cooker Sweet and Sour Ham Balls.  AWESOME! Combine sweet and sour sauce, juice, ...
Get Recipe
Ever had a dip that just taste like FOOTBALL?   This Dallas Cowboys Football Dip will satisfy any football fan.  Any time I ...
Get Recipe
To make this amazing and flavorful broth for this Slow Cooker Day After Turkey Soup, save the leftover turkey and carcass from your ...
Get Recipe
One thing I love about the holidays are all the get-togethers and the excuse they give me to make some yummy dips in ...
Get Recipe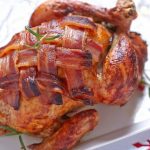 Last Thanksgiving our friends from Cackle & Oink BBQ shared a bacon-wrapped turkey that looked divine!  Unfortunately, Cackle & Oink is all the ...
Get Recipe
I got this recipe from the Taste of Home magazine, and must give them full credit, as Slow Cooker Spiced Ambrosia Punch is ...
Get Recipe
Meet Jenn Bare
Jenn is the founder of GetCrocked, the #1 resource for slow cooking with over 1.5 million online followers. She innovates recipes daily with her favorite tool in the kitchen, the Crock-Pot® slow cooker.
She innovates recipes daily...
Jenn Bare is a Mom, Chef & the Crock-Pot® Girl. She hosts a weekly "Mom Monday" segment on ABC-15 in Phoenix.
Crockpot Books
Get Crocked: Fast & Easy Slow Cooker Recipes