Holiday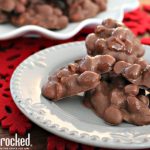 Put all ingredients in slow cooker; cook 1 hour on high. Do not stir. Turn slow cooker to Low and stir every 15 ...
Get Recipe
Slow Cooker Banana Bread is so easy to make and a great way to use up those ripe bananas. (the riper the better! ...
Get Recipe
If you like a traditional cinnamon rolls, but find them too sweet for your taste, try this recipe for Slow Cooker Pumpkin Cinnamon ...
Get Recipe
Place the carrots, potatoes, and onion into the bottom of the crock pot, pour in the water, and place the brisket on top ...
Get Recipe
This is a great recipe for the holiday or any time! And.... I wanted to share my favorite Slow Cooker Honey Glazed Ham ...
Get Recipe
It's Easter time and there's no better way to use up that leftover Easter ham than to make a big delicious pot of ...
Get Recipe
Meet Jenn Bare
Jenn is the founder of GetCrocked, the #1 resource for slow cooking with over 1.5 million online followers. She innovates recipes daily with her favorite tool in the kitchen, the Crock-Pot® slow cooker.
She innovates recipes daily...
Jenn Bare is a Mom, Chef & the Crock-Pot® Girl. She hosts a weekly "Mom Monday" segment on ABC-15 in Phoenix.
Crockpot Books
Get Crocked: Fast & Easy Slow Cooker Recipes