Holiday
TIPS and TRICKS Have you ever bought frozen bread and forgot to pull it out of the freezer? Of course it takes all ...
Get Recipe
Hot Spiked Apple Cider with delicious dark rum… YUM! Great to serve at your next party right from your slow cooker! Pour apple ...
Get Recipe
A superbly-flavored alternative to plain 'ol taters! Give this rich sweet potato recipe a try today! Grease slow cooker with butter, add sliced ...
Get Recipe
Slow Cooker Reuben Dip is a perfect little dip for that small crock.  Great to share for a game, Poker night, or any ...
Get Recipe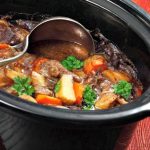 If you love comfort food you will love Slow Cooker Irish Beef Stew! It is good even if you don't serve it on ...
Get Recipe
In the Autumn season, we make a lot of chili, and I was happy to receive this delicious recipe from my Mother-in-Law Marsha ...
Get Recipe
Meet Jenn Bare
Jenn is the founder of GetCrocked, the #1 resource for slow cooking with over 1.5 million online followers. She innovates recipes daily with her favorite tool in the kitchen, the Crock-Pot® slow cooker.
She innovates recipes daily...
Jenn Bare is a Mom, Chef & the Crock-Pot® Girl. She hosts a weekly "Mom Monday" segment on ABC-15 in Phoenix.
Crockpot Books
Get Crocked: Fast & Easy Slow Cooker Recipes