Ingredients
It's our One-Year Anniversary and we want to celebrate with you!
In hon­or of our anniver­sary, we are announc­ing the first annu­al Get Crocked CROCKSTAR of the Year con­test! That's right, YOU could be named the Get Crocked Crock­star of the Year!
Win "crock­tas­tic" prizes! We're giv­ing away crock pots, mini crocks, crock­ing acces­sories, aprons, ebooks and more.
Just sub­mit your favorite crock pot recipe to be eli­gi­ble. (Con­test details below.)
Some of the awe­some prizes we will be award­ing: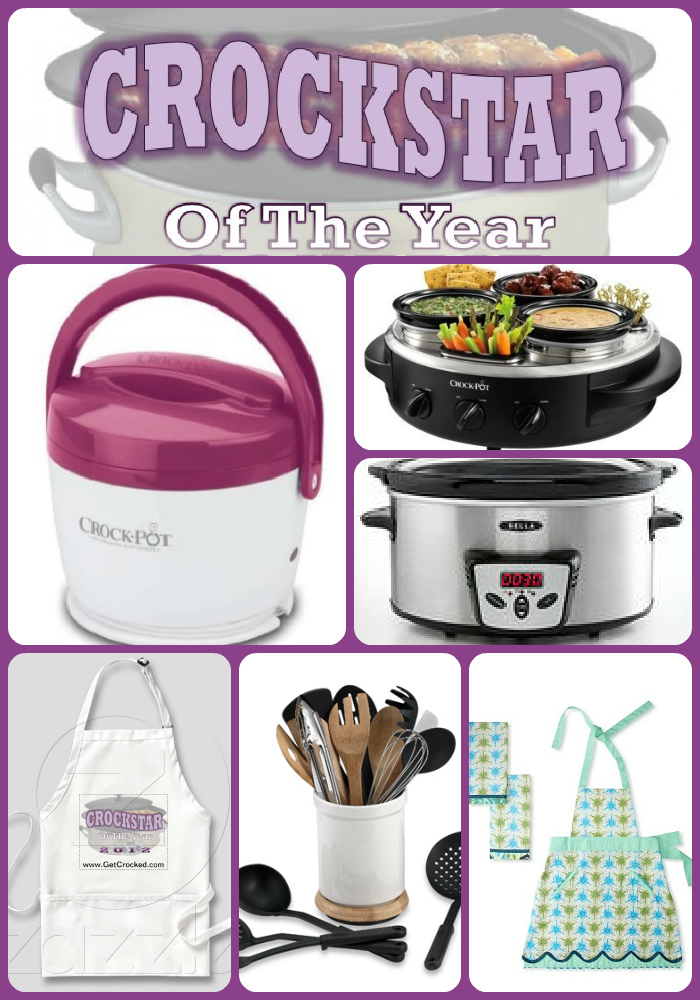 Here are the con­test details:
Con­test Sub­mis­sion Dates: Sub­mit your recipe between Sept. 14, 2012 and Sep­tem­ber 30, 2012
Con­test Vot­ing Dates: Vot­ing opens Sept. 14, 2012 and clos­es on Octo­ber 15, 2012.
Recipe Cat­e­gories:
• Appe­tiz­er
• Side Dish
• Main Course
• Dessert
Recipes will be judged on:
• Orig­i­nal­i­ty & Cre­ativ­i­ty
• Appear­ance
• Clar­i­ty of Instruc­tions
Cat­e­go­ry Cham­pi­ons:
The Get Crocked judges will select one recipe from each cat­e­go­ry as the Cat­e­go­ry Cham­pi­on.
Grand Prize — CROCKSTAR of the Year:
The con­test recipe sub­mis­sion with the most "likes" on the Get Crocked web­site will be the over­all grand prize win­ner and the per­son who sub­mit­ted it will be named the Crock­star of the Year. The win­ner will be fea­tured on our web­site, social media chan­nels, and be fea­tured in the Get Crocked Cook­book (to be pub­lished).
Con­test entrants are encour­aged to share their recipe sub­mis­sions through var­i­ous meth­ods includ­ing Face­book, Twit­ter, Pin­ter­est, Google+, etc how­ev­er, only "likes" on the recipe post on the Get­Crocked web­site (www.getcrocked.com) will be count­ed in the con­test.
Con­test Rules:
By enter­ing the recipe con­test, you agree that your Pho­to and Recipe become prop­er­ty of Get Crocked and can be used with cred­it to you, the poster — includ­ing in the Get Crocked Cook­book (Pub­li­ca­tion in Devel­op­ment).
The sub­mit­ted recipe must be an orig­i­nal recipe

OR

a recipe adap­ta­tion where the orig­i­nal recipe is cit­ed includ­ing the Cre­ator, Pub­lish­er and/or Cook­book.
Each recipe must use a slow cook­er (i.e. Crock Pot) as a cook­ing or heat­ing method.
A pho­to­graph of the final pre­pared recipe must accom­pa­ny the recipe sub­mis­sion. Reg­u­lar pho­tos are ok — pro­fes­sion­al pho­tographs are not required!
You may enter mul­ti­ple recipes, how­ev­er, each recipe must be sub­mit­ted sep­a­rate­ly.
Recipes may be sub­mit­ted via the Con­test link at GetCrocked.com — https://www.getcrocked.com/submit-recipes/
Note: You may also email your con­tact info, recipe + pic­ture to: con­test (at) getcrocked.com
Recipe sub­mis­sions received after 11:59PM PST on Sep­tem­ber 30, 2012 will not be accept­ed.
Win­ners will be announced in Octo­ber 2012 via var­i­ous com­mu­ni­ca­tion chan­nels includ­ing but not lim­it­ed to our Web­site, Social Media chan­nels, and via our Elec­tron­ic Newslet­ters.
Good Luck!