Cooking Time:

6–8 hours

Servings:

8
Ingredients
8 c. chick­en broth
8–10 Yukon gold or Red pota­toes, peeled and cut into small chunks
4 leeks (whites only), washed and sliced thin­ly
3 cel­ery stalks, chopped
1 bay leaf
2 tsp. fine­ly chopped fresh thyme
Salt and fresh­ly ground pep­per
1 c. heavy cream, room temp.


One of the things I look for­ward to most when vis­it­ing my favorite local Irish Pub is this clas­sic: Slow Cook­er Pota­to Leek Soup. Here is my ver­sion for you to enjoy!
Place the chick­en broth, pota­toes, leeks, cel­ery, bay leaf and thyme in crock and sea­son with salt and pep­per.
Cov­er and cook on

HIGH

4–5 hours, or until pota­toes are soft. (Impor­tant

NOT

to lift lid!)
Remove the bay leaf. Use a stick blender to blend pota­toes into a smooth soup, or in small batch­es, blend soup in stand blender.
Return the soup to the crock and add the cream.
Re-cov­er and cook on

HIGH

1–2 more hour to thick­en soup.
Serve with chives, shred­ded cheese and/or bacon.
NOTE: Use par-boiled pota­toes instead of raw to expe­dite the time on this soup.
NOTE 2: Easy to con­vert to Veg­e­tar­i­an by sub­sti­tut­ing Veg­etable Broth for the Chick­en Broth!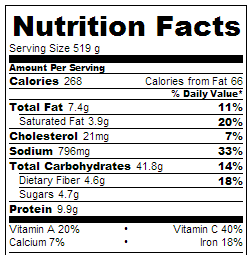 Hap­py Crock­ing!
For over 450 more Slow Cook­er recipes, click here to get my eBook!
XOXO

,
Jenn