Tag:
jalapeno peppers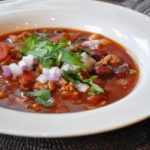 Stephanie says this recipe is super easy and not expensive! Stephanie didn't give exact measurements, so hopefully you can make this according to ...

This recipe for Slow Cooker Jalapeño Popper Dip is a favorite from a dear friend of mine from my Facebook page, I hope ...

Meet Jenn Bare
Jenn is the founder of GetCrocked, the #1 resource for slow cooking with over 1.5 million online followers. She innovates recipes daily with her favorite tool in the kitchen, the Crock-Pot® slow cooker.
She innovates recipes daily...
Jenn Bare is a Mom, Chef & the Crock-Pot® Girl. She hosts a weekly "Mom Monday" segment on ABC-15 in Phoenix.
Crockpot Books
Get Crocked: Fast & Easy Slow Cooker Recipes