Cooking Time:

2 hours

Servings:

10
Ingredients
16 oz. brownie mix, any package
1/4 c. melted butter
1 egg
1/4 c. water
12 oz. sweetened condensed milk
1/4 c. walnuts
1/4 c. coconut
1/4 c. oats, old fashioned, can add Gluten free oats

OH BOY! These Slow Cook­er Five Lay­er Brown­ies are rich, and so deli­cious! A MUST MAKE!
This recipe is great to make in a 2 quart crock!
Place the but­ter in the bot­tom of the crock to melt the but­ter while you mix the fol­low­ing ingre­di­ents.
Mix the egg, brown­ie mix, with 1/4 c. of water.
Stir into melt­ed but­ter until none of the pow­der is left dry; bat­ter will be quite thick
Pour can of sweet­ened con­densed milk over the top.
Spread lay­er of oats over the milk, then coconut, then wal­nuts.
Cov­er. Cook on High if using a small slow cook­er, or on Low if using a larg­er slow cook­er than the 2 qt.
Tip: Test with a knife after 1 hours. If it comes out clean, cook for anoth­er 20–30 min­utes with the lid off to get rid of the con­den­sa­tion and to help solid­i­fy the con­densed milk. A good tip is you will know when it is done when the edges pull away from your crock.
NOTE: If you use the 1 qt. crock pot it is like­ly it will cook for a very long time, as long as 4 hours.
Hap­py Crock­ing!
For over 400 more recipes, click here to get my eBook "Get Crocked: The Defin­i­tive Guide to Slow Cook­ing"
XOXO

,
Jenn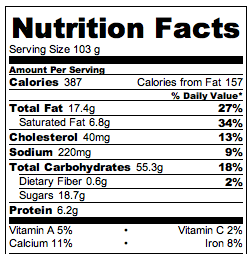 Love,
Crock Pot Girl