Tag:
butter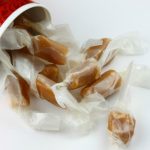 This recipe for Slow Cooker Creamy Soft Peanut Butter Caramels is so easy to make, and a delicious holiday or party treat. Enjoy! ...
Get Recipe
I'm going to apologize in advance because this Slow Cooker Buttery Caramel Dip is A-MAZING and oh-so-addicting.  Recently on ABC in Phoenix, I ...
Get Recipe
I LOVE Shrimp Scampi! Adding the Johnny's Garlic Spread to this classic recipe gives it an extra boost of flavor that everyone loves ...
Get Recipe
I love Cheesecake of any kind how about you? If so you will love this recipe for Slow Cooker Pumpkin Cheesecake! Filling: Cream ...
Get Recipe
I love peach season, and this recipe for Peach Crisp is excellent and it just doesn't take very long to make. Enjoy! Combine ...
Get Recipe
Meet Jenn Bare
Jenn is the founder of GetCrocked, the #1 resource for slow cooking with over 1.5 million online followers. She innovates recipes daily with her favorite tool in the kitchen, the Crock-Pot® slow cooker.
She innovates recipes daily...
Jenn Bare is a Mom, Chef & the Crock-Pot® Girl. She hosts a weekly "Mom Monday" segment on ABC-15 in Phoenix.
Crockpot Books
Get Crocked: Fast & Easy Slow Cooker Recipes