Tag:
red pepper
The delicious blend of the ingredients in Slow Cooker Corn and Red Pepper Chowder will make you wish you had made a double ...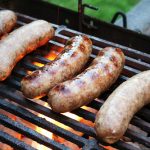 Soups and Stews are wonderful when the weather is a bit chilly. If you serve Slow Cooker EASY Loaded Bratwurst Stew, I promise ...

Slow Cooker Orange Beef is very flavorful and a great way to get the kiddos to eat vegetables. Serve this dish over rice ...

Slow Cooker Shrimp Stir-Fry is a great recipe to make with all the delicious veggies. It can also be made with beef, pork ...

Looking for a meal to serve to your guests, they will love Slow Cooker Asian Pork With Snow Peas, Red Peppers, and Soba ...

Meet Jenn Bare
Jenn is the founder of GetCrocked, the #1 resource for slow cooking with over 1.5 million online followers. She innovates recipes daily with her favorite tool in the kitchen, the Crock-Pot® slow cooker.
She innovates recipes daily...
Jenn Bare is a Mom, Chef & the Crock-Pot® Girl. She hosts a weekly "Mom Monday" segment on ABC-15 in Phoenix.
Crockpot Books
Get Crocked: Fast & Easy Slow Cooker Recipes