Tag:
sweet peppers
So many great potato soups, and Slow Cooker Smashed Potato Soup is definitely one more to add to your great soups repertoire! YUM! ...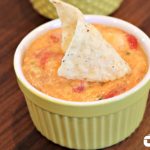 This Slow Cooker Cheesy Mexican Fondue is a delicious appetizer that everyone loves. (You WILL be asked for the recipe, so be prepared!) ...

Meet Jenn Bare
Jenn is the founder of GetCrocked, the #1 resource for slow cooking with over 1.5 million online followers. She innovates recipes daily with her favorite tool in the kitchen, the Crock-Pot® slow cooker.
She innovates recipes daily...
Jenn Bare is a Mom, Chef & the Crock-Pot® Girl. She hosts a weekly "Mom Monday" segment on ABC-15 in Phoenix.
Crockpot Books
Get Crocked: Fast & Easy Slow Cooker Recipes