Top 25 Recipes
Slow Cooker Green Bean Casserole make a great side dish to so many meals. It's definitely a favorite around the holidays in my ...

Slow Cooker Creamiest Mac & Cheese really IS the creamiest and your kids will never ask you for that blue box of macaroni ...

Shrimp is one of my favorite foods and there are so many ways to prepare it. One of the ways I enjoy shrimp ...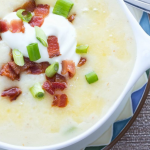 Slow Cooker Baked Potato Soup is a great recipe to use up those left over baked potatoes. Cut baked potatoes in half. Scoop ...

This is a delicious recipe that will have people coming back for more! I often get requests for this when going to a ...

This recipe for Slow Cooker Pumpkin Chili was shared by MaryJane M. on our Facebook page.  We love this delicious fall recipe as it's ...

Meet Jenn Bare
Jenn is the founder of GetCrocked, the #1 resource for slow cooking with over 1.5 million online followers. She innovates recipes daily with her favorite tool in the kitchen, the Crock-Pot® slow cooker.
She innovates recipes daily...
Jenn Bare is a Mom, Chef & the Crock-Pot® Girl. She hosts a weekly "Mom Monday" segment on ABC-15 in Phoenix.
Crockpot Books
Get Crocked: Fast & Easy Slow Cooker Recipes