Tag:
barbecue sauce
This recipe for Slow Cooker Barbecue Chicken Wings or Drum Sticks (otherwise called Drummies), can easily be doubled or even tripled with a ...

Slow Cooker Great Barbecue Short Ribs are very TASTY! Remove excess fat and any bones from short ribs. Slice onion into 1/4 inch ...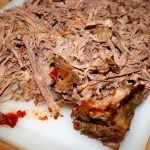 Slow Cooker Smothered Brisket is great to serve to family and guests! Delicious and so easy to make! Rub the brisket with garlic ...

Slow Cooker Baby Back Ribs are so delicious, and so easy to prepare! Great for the working family, as it can crock all ...

I am a BIG fan of the Taste of Home Magazine, and I got Slow Cooker TEXAS Style Beef Brisket from one of ...

Meet Jenn Bare
Jenn is the founder of GetCrocked, the #1 resource for slow cooking with over 1.5 million online followers. She innovates recipes daily with her favorite tool in the kitchen, the Crock-Pot® slow cooker.
She innovates recipes daily...
Jenn Bare is a Mom, Chef & the Crock-Pot® Girl. She hosts a weekly "Mom Monday" segment on ABC-15 in Phoenix.
Crockpot Books
Get Crocked: Fast & Easy Slow Cooker Recipes