Tag:
butterscotch
A sweet and fun fruit dip.  Slow Cooker Butterscotch Fruit Dip is so easy to whip up! Place butterscotch morsels and sweetened condensed ...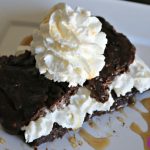 If you enjoy Chocolate Lava Cake, you will most certainly LOVE this recipe for Slow Cooker Chocolate Butterscotch Pudding Cake.  So rich, yet ...

Meet Jenn Bare
Jenn is the founder of GetCrocked, the #1 resource for slow cooking with over 1.5 million online followers. She innovates recipes daily with her favorite tool in the kitchen, the Crock-Pot® slow cooker.
She innovates recipes daily...
Jenn Bare is a Mom, Chef & the Crock-Pot® Girl. She hosts a weekly "Mom Monday" segment on ABC-15 in Phoenix.
Crockpot Books
Get Crocked: Fast & Easy Slow Cooker Recipes