Tag:
cream cheese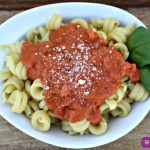 Sometimes I have a hard time deciding whether I'm in the mood for red sauce or white sauce on my pasta. Enter, Slow ...
Get Recipe
I love Cheesecake of any kind how about you? If so you will love this recipe for Slow Cooker Pumpkin Cheesecake! Filling: Cream ...
Get Recipe
With football season right around the corner, Slow Cooker Hot Crab Curry Dip will be GREAT for your next FOOTBALL Party! Combine crab ...
Get Recipe
Crab Rangoon is a favorite of mine, and I know this dip will be a favorite of yours too! Crab Rangoon Dip is ...
Get Recipe
Even your pickiest eaters will be devouring this one!  This recipe for Sow Cooker Hot Onion Dip is creamy and delicious.  Great for ...
Get Recipe
Meet Jenn Bare
Jenn is the founder of GetCrocked, the #1 resource for slow cooking with over 1.5 million online followers. She innovates recipes daily with her favorite tool in the kitchen, the Crock-Pot® slow cooker.
She innovates recipes daily...
Jenn Bare is a Mom, Chef & the Crock-Pot® Girl. She hosts a weekly "Mom Monday" segment on ABC-15 in Phoenix.
Crockpot Books
Get Crocked: Fast & Easy Slow Cooker Recipes