Tag:
green pepper
Slow Cooker Orange Beef is very flavorful and a great way to get the kiddos to eat vegetables. Serve this dish over rice ...

Slow Cooker Bean and Cornbread Casserole is not only delicious, but it is quick, and definitely good on a chilly evening! Lightly grease ...

Slow Cooker Pizza Chili will meet all the needs of not only the adults but also the kiddos! ENJOY! Heat 1 T. Coconut ...

Laurie K. shared her favorite Slow Cooker Chili recipe. She says it's her quick and easy Chili to put together. Thanks Laurie for ...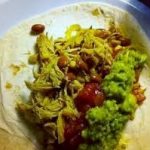 Slow Cooker Chipotle Chicken is not only tasty, but it i also very easy to prepare, with multiple ways to serve it up! ...

Meet Jenn Bare
Jenn is the founder of GetCrocked, the #1 resource for slow cooking with over 1.5 million online followers. She innovates recipes daily with her favorite tool in the kitchen, the Crock-Pot® slow cooker.
She innovates recipes daily...
Jenn Bare is a Mom, Chef & the Crock-Pot® Girl. She hosts a weekly "Mom Monday" segment on ABC-15 in Phoenix.
Crockpot Books
Get Crocked: Fast & Easy Slow Cooker Recipes