Tag:
parsnips
Fall flavors and seasonal winter vegetables abound in the delicious recipe for Slow Cooker Paleo Pumpkin and Kale Stew . Heat oil over ...

This time of the year we think of warm tasty soups, and with Slow Cooker Paleo Apple and Parsnip Soup you will definitely ...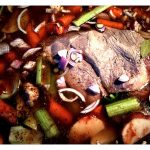 Some like it hot, some not, but with Slow Cooker Cajun Pot Roast, you can adjust it to your liking! Coat the inside ...

Meet Jenn Bare
Jenn is the founder of GetCrocked, the #1 resource for slow cooking with over 1.5 million online followers. She innovates recipes daily with her favorite tool in the kitchen, the Crock-Pot® slow cooker.
She innovates recipes daily...
Jenn Bare is a Mom, Chef & the Crock-Pot® Girl. She hosts a weekly "Mom Monday" segment on ABC-15 in Phoenix.
Crockpot Books
Get Crocked: Fast & Easy Slow Cooker Recipes