Tag:
sage
I am a big fan or Pork Tenderloin and I'm always dreaming up new ways to Crock it. Apple Sage Pork Tenderloin is ...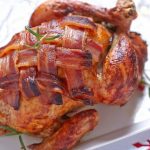 Last Thanksgiving our friends from Cackle & Oink BBQ shared a bacon-wrapped turkey that looked divine!  Unfortunately, Cackle & Oink is all the ...

Meet Jenn Bare
Jenn is the founder of GetCrocked, the #1 resource for slow cooking with over 1.5 million online followers. She innovates recipes daily with her favorite tool in the kitchen, the Crock-Pot® slow cooker.
She innovates recipes daily...
Jenn Bare is a Mom, Chef & the Crock-Pot® Girl. She hosts a weekly "Mom Monday" segment on ABC-15 in Phoenix.
Crockpot Books
Get Crocked: Fast & Easy Slow Cooker Recipes