Tag:
tomatillos
Tomatillo Salsa Verde is as good as the red sauce, and this recipe is truly worth making! Easy and Delicious! Yummy!! Place tomatillos, ...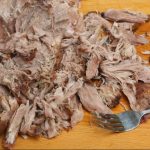 If you are looking for that recipe to serve guests that will have them saying WOW… This is it, Slow Cooker Guisado Verde! ...

Meet Jenn Bare
Jenn is the founder of GetCrocked, the #1 resource for slow cooking with over 1.5 million online followers. She innovates recipes daily with her favorite tool in the kitchen, the Crock-Pot® slow cooker.
She innovates recipes daily...
Jenn Bare is a Mom, Chef & the Crock-Pot® Girl. She hosts a weekly "Mom Monday" segment on ABC-15 in Phoenix.
Crockpot Books
Get Crocked: Fast & Easy Slow Cooker Recipes