Tag:
breakfast
You will be patting yourself on the back for this one--make it the evening before a big holiday cooking day to keep a ...
Get Recipe
Are you looking for an easy breakfast recipe to throw together, with things you almost always have on hand? Your family will love ...
Get Recipe
Oatmeal is great for any breakfast but Slow Cooker Overnight Steel Oats is great as you can put it on before you go ...
Get Recipe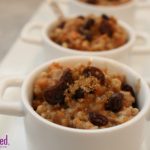 Adriana P. F. was kind enough to share her recipe for Slow Cooker Carrot Cake Oatmeal on my Facebook page. She said it ...
Get Recipe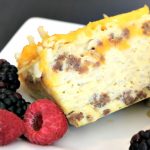 Love it when our Facebook Friends share their recipes. Slow Cooker Egg Bake II was shared by Facebook Friend Dawn P. H.! Thanks ...
Get Recipe
Slow Cooker Strawberry Lemonade Oatmeal is so easy to prep, and great to wake up to in the morning. Combine water, oats, strawberries ...
Get Recipe
Meet Jenn Bare
Jenn is the founder of GetCrocked, the #1 resource for slow cooking with over 1.5 million online followers. She innovates recipes daily with her favorite tool in the kitchen, the Crock-Pot® slow cooker.
She innovates recipes daily...
Jenn Bare is a Mom, Chef & the Crock-Pot® Girl. She hosts a weekly "Mom Monday" segment on ABC-15 in Phoenix.
Crockpot Books
Get Crocked: Fast & Easy Slow Cooker Recipes