Tag:
noodles
There are a few variations for left over turkey soup, but I like Slow Cooker EASY Leftover Turkey Noodle Soup because it is ...
Get Recipe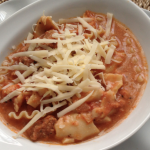 Slow Cooker Ground Beef Lasagna Soup is great for a weeknight meal. We love this one at my house - even the kiddos! ...
Get Recipe
A delicious gluten-free recipe for the slow cooker. Slow Cooker Ziti is a favorite for all the Italian lovers out there. Spray slow ...
Get Recipe
Sharing recipes from Facebook Friends is truly the greatest! This recipe was shared by Mat M., Slow Cooker Pork and Noodles sounds delicious, ...
Get Recipe
Some days you just need to be Lazy, and Slow Cooker LAZY Day Chicken Noodle Soup, fits the bill! Yet you still made ...
Get Recipe
Meet Jenn Bare
Jenn is the founder of GetCrocked, the #1 resource for slow cooking with over 1.5 million online followers. She innovates recipes daily with her favorite tool in the kitchen, the Crock-Pot® slow cooker.
She innovates recipes daily...
Jenn Bare is a Mom, Chef & the Crock-Pot® Girl. She hosts a weekly "Mom Monday" segment on ABC-15 in Phoenix.
Crockpot Books
Get Crocked: Fast & Easy Slow Cooker Recipes