Tag:
orange
Kick up that same-old stir-fry with a citrus twist! I love this meal - it's so tasty and super easy to prepare and ...

I have to admit it - I LOVE Asian food! One dish my family can agree on ordering any time we go out ...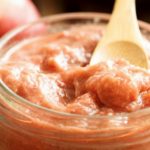 I love recipes where you can make several batches at once, store extras in Mason jars and give as gifts, or save for ...

Take that boring old roast up a notch with this deeply flavorful sauce made with coffee, cinnamon, orange zest, and pure maple syrup ...

Slow Cooker Hot Apple Tea is so good, and as we all know to steep the tea, always makes it better, that is ...

Meet Jenn Bare
Jenn is the founder of GetCrocked, the #1 resource for slow cooking with over 1.5 million online followers. She innovates recipes daily with her favorite tool in the kitchen, the Crock-Pot® slow cooker.
She innovates recipes daily...
Jenn Bare is a Mom, Chef & the Crock-Pot® Girl. She hosts a weekly "Mom Monday" segment on ABC-15 in Phoenix.
Crockpot Books
Get Crocked: Fast & Easy Slow Cooker Recipes