soups & sauces
Slow Cooker Meaty Tomato Sauce is great to make ahead of time, for your favorite Spaghetti, Lasagna or any Italian dish! In a ...
Get Recipe
Slow Cooker Minestrone is a delicious soup, and tastes even better the next day! This recipe was a favorite of my mother-in-law's when ...
Get Recipe
A hot, cheesy dip on a cold Winter night...yes, please!  Try this Slow Cooker Havarti Cheese Fondue, and kiss those Winter Blues good-bye! ...
Get Recipe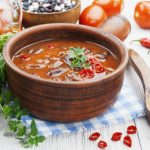 I love this Slow Cooker Red Chicken Chili recipe for so many reasons. It's super yummy and healthier than most chicken chili plus ...
Get Recipe
Sometimes the healthiest things come in the most flavorful packages.  Nothing fancy here--Slow Cooker Spicy Black Bean Soup is just an amazing tasting ...
Get Recipe
MAREE'S VENISON CHILI was the "fan favorite" and received the most likes in my Facebook page's "Virtual Chili Crock-Off" in March 2014.  Here ...
Get Recipe
Meet Jenn Bare
Jenn is the founder of GetCrocked, the #1 resource for slow cooking with over 1.5 million online followers. She innovates recipes daily with her favorite tool in the kitchen, the Crock-Pot® slow cooker.
She innovates recipes daily...
Jenn Bare is a Mom, Chef & the Crock-Pot® Girl. She hosts a weekly "Mom Monday" segment on ABC-15 in Phoenix.
Crockpot Books
Get Crocked: Fast & Easy Slow Cooker Recipes