soups & sauces
Slow Cooker Lemon Herb Veal Stew is so tender and delicious. It's a real treat to any weeknight meal! Place the chopped leaks, ...
Get Recipe
Slow Cooker Beer Cheese is incredible! Never a drop left! Great to serve for those sports parties, especially the super bowl! I like ...
Get Recipe
BUSY WORKING MOM'S BBQ CHILI Submitted by: Beth Krajewski Devans Source: Original Beth says, "You can always add a little more BBQ sauce ...
Get Recipe
This recipe for Slow Cooker Creamy Alfredo Sauce is the perfect accompaniment to your favorite pasta and is delicious with chicken, seafood or ...
Get Recipe
Slow Cooker Albondigas Soup (Meatball Soup) has a uniquely delicious flavor.  Be sure to not omit the mint as it is really what ...
Get Recipe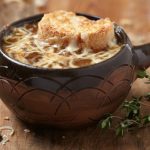 What an indulgence it is to have a really tasty Slow Cooker Fancy French Onion Soup.  Your guests or family will think you ...
Get Recipe
Meet Jenn Bare
Jenn is the founder of GetCrocked, the #1 resource for slow cooking with over 1.5 million online followers. She innovates recipes daily with her favorite tool in the kitchen, the Crock-Pot® slow cooker.
She innovates recipes daily...
Jenn Bare is a Mom, Chef & the Crock-Pot® Girl. She hosts a weekly "Mom Monday" segment on ABC-15 in Phoenix.
Crockpot Books
Get Crocked: Fast & Easy Slow Cooker Recipes