soups & sauces
When you have a high-quality, homemade chicken broth on hand for recipes, there is just no comparison.  Do yourself a favor and assemble ...

September 24th is National Cherries Jubilee Day! Cherry lovers rejoice because now you can make Slow Cooker Cherries Jubilee for your family right ...

I call this recipe "Mom's Favorite Chili" because it is my new favorite slow cooker chili recipe! I like chili and I especially ...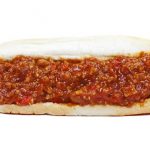 Place the ground beef and onion in a large skillet over medium-high heat. Cook, stirring to crumble, until beef is browned. Drain. Transfer ...

My friends at Hurst Beans sent me this recipe for Pumpkin Pinto Chili and it sounds delicious!  This Halloween, I'm in a new neighborhood ...

The PERFECT Fall soup would be Slow Cooker Butternut Squash Soup, and you and/or your guests will love it! Add all ingredients except ...

Meet Jenn Bare
Jenn is the founder of GetCrocked, the #1 resource for slow cooking with over 1.5 million online followers. She innovates recipes daily with her favorite tool in the kitchen, the Crock-Pot® slow cooker.
She innovates recipes daily...
Jenn Bare is a Mom, Chef & the Crock-Pot® Girl. She hosts a weekly "Mom Monday" segment on ABC-15 in Phoenix.
Crockpot Books
Get Crocked: Fast & Easy Slow Cooker Recipes