Tag:
chicken
I love Slow Cooker Tequila Lime Chicken! It has a unique blend of flavors and is super yummy served with a fluffy Spanish ...

I LOVE curry! This recipe for Slow Cooker Healthier Chicken Curry is delicious and super tasty. PLUS the "slow and low" method of cooking ...

I love Asian food! I actually love Asian food at home and that's because I know I can make a healthier version of ...

I put this Easy Tomato & Balsamic Chicken together in my 5-Quart Crock-Pot Slow Cooker today. It turned out so juicy and flavorful ...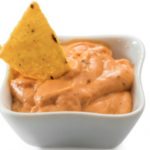 This is my husband's #1 request for game day - Slow Cooker Game Day Chicken Dip! He says it's the perfect combo of flavors ...

Meet Jenn Bare
Jenn is the founder of GetCrocked, the #1 resource for slow cooking with over 1.5 million online followers. She innovates recipes daily with her favorite tool in the kitchen, the Crock-Pot® slow cooker.
She innovates recipes daily...
Jenn Bare is a Mom, Chef & the Crock-Pot® Girl. She hosts a weekly "Mom Monday" segment on ABC-15 in Phoenix.
Crockpot Books
Get Crocked: Fast & Easy Slow Cooker Recipes