Tag:
chili powder
There are many versions of chili recipes, you will not go wrong with this one.... Slow Cooker Pumpkin Chicken Chili! NOTE: This recipe can easily ...

Laurie K. shared her favorite Slow Cooker Chili recipe. She says it's her quick and easy Chili to put together. Thanks Laurie for ...

I am a BIG fan of the Taste of Home Magazine, and I got Slow Cooker TEXAS Style Beef Brisket from one of ...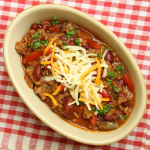 The is nothing better than a pot of chili after a long day away for home. You will make Slow Cooker Favorite Chili ...

Mix chile powder with water to form a thick paste. Blend paste, one cup onion, oregano, salt and vinegar in a blender. Add ...

Meet Jenn Bare
Jenn is the founder of GetCrocked, the #1 resource for slow cooking with over 1.5 million online followers. She innovates recipes daily with her favorite tool in the kitchen, the Crock-Pot® slow cooker.
She innovates recipes daily...
Jenn Bare is a Mom, Chef & the Crock-Pot® Girl. She hosts a weekly "Mom Monday" segment on ABC-15 in Phoenix.
Crockpot Books
Get Crocked: Fast & Easy Slow Cooker Recipes